THE SUNSHINE COASTS 7 BEST 4WD CAMPING DESTINATIONS
Whether there's a long weekend coming up or you're planning a trip for later in the year, there's one thing you're going to want to get right –and that's where you camp. It's a tricky question and it's one that can make or break a camping getaway.
So, for all you 4x4-obsessed South Queenslanders out there, we decided to lend you a helping hand and save you a boatload of time by trimming the fat, and guaranteeing nothing but picturesque views and good times ahead (you can thank us when you come back).

Without further ado, here are our top 7 4WD camping spots on the Sunshine Coast.
1. CLANCY'S CAMPING AREA, BENARKIN STATE FOREST
Only 130km south-west of Sunshine Coast, Benarkin State Forest has one of the best off-road tracks in this region – hands down! A scenic forest drive that leads through lush rainforests, hoop pine plantations, eucalypt forests and the picturesque Emu Creek. It's like something out of a movie that spans 4 different scenic environments all in the one track. And the best part? Each section comes with its own challenges and will certainly test your 4x4 skill.
As far as camping goes, you'll need to tackle 14km of the Benarkin State Forest just to arrive at the Clancy's camping area. You'll be met with a clearing of a beautiful open grassy area, that makes a nice change of pace from the dense and claustrophobic (but in a good way) forest. It's also located next to the Bicentennial National Trail, the longest trail in the world, stretching 5,330km from Cooktown in Tropical North Queensland to Healesville in Victoria. It also has turnstile access to Emu Creek for a nice soak after a long day testing and honing your 4x4 skills in the plethora of changing conditions and terrains you'll experience each day.
4WD difficulty: Moderate. With the changing conditions and terrains, only kitted out 4x4s are recommended here, especially GVM-upgraded vehicles. The wheel clearance will vary at times and tricky ruts could become a big problem for inferior setups. How to get there: Located 130km south-west of Sunshine Coast, you'll arrive at the Benarkin State Forest. Continue 14km into the forest along the Forest Drive, adjacent to Emu Creek, to arrive at the Clancy's Camping Area.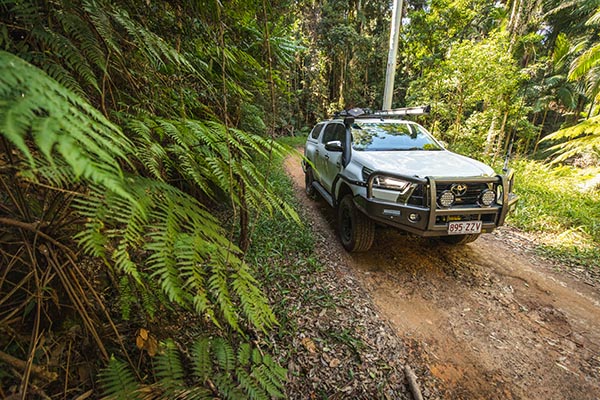 2. BOOLOUMBA CREEK CAMPING AREAS / CONONDALE NATIONAL PARK
Bit of a nature nut? Can't get enough of water crossings, greenery, tricky ruts and rainforest as far as the eye can see?! Then, with its plethora of 4WD tracks, each ranging in difficulty sure to test even the most seasoned 4x4 adventurers, Booloumba Creek should be pencilled in for your next camping getaway!
Located just a few clicks south of Kenilworth is the entrance to Conondale National Park, and within that is a world of outdoor fun. However, the real gem can be found at the Booloumba Creek Camping Areas – and number 3 is our pick of the bunch. Surrounded by a tall canopy of green on one side, and on the other are some of the best sections of Booloumba Creek, which is stained an electric blue by mineral deposits in the water, his truly is a sight to behold and one you're going to enjoy even more after you've been touring the rainforests all day to nestle into your own little spot amongst nature.
4WD difficulty: Easy-moderate. Depending on the tracks you take, and of course the weather, the majority of the 4WD tracks here should simply just be a barrel of fun and full of amazing scenery. However, it's worth noting that the Booloumba Creek is only accessible by high-clearance 4WD.
How to get there: Just over an hour's drive from Sunshine Coast, head north on the Bruce Highway, take the Eumundi Kenilworth exit and continue onwards until you arrive at the Maleny Kenilworth Road. Turn right at Boolumba Creek Road and you'll arrive at Booloumba Creek camping area 3 in just 12 minutes.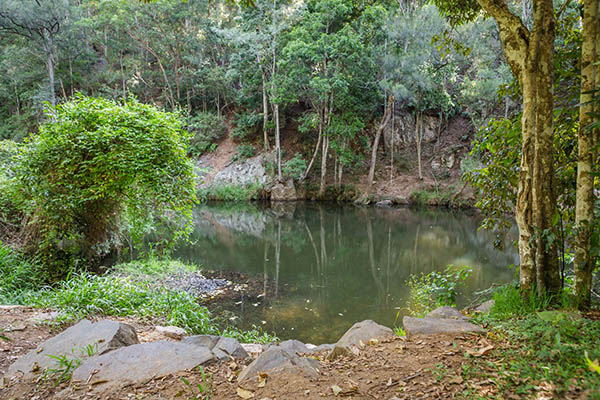 3. MOUNT MEE, D'AGUILAR NATIONAL PARK / ARCHER CAMPING AREA
If you're around the Brisbane area, it's safe to say you've heard of D'Aguilar National Park. Dubbed the 4WD playground of Brisbane, the national park spans approximately 36,000 ha and is filled to the brim of subtropical rainforest, lush green hills, waterfalls, pools, gorges and spectacular views of Moreton Bay.
However, it is divided into two sections, South D'Aguilar and Mount Mee. Our pick for the perfect campsite is the Archer Camping Area located in Mount Mee. Archer Camping Area is the perfect place to rest and recharge between trips out into the forest on four wheels. The campsites butt up against Neurum Creek and sit under the shade of the surrounding bushland. Each site is spacious, plus it's easy to access your own personal spot of the creek for a dip before drying off under the sun.
There's also plenty of lookouts to drive to, watercourses like Rocky Hole and plenty of tracks to add some fresh dirt to the chassis.
4WD difficulty: Easy- moderate. There are plenty of tracks here to really test yourself but the best part is you can choose which ones you want to tackle based on your skill level.
How to get there: Archer camping area is in the North D'Aguilar section of D'Aguilar National Park, about 90km south of the Sunshine Coast and 18km from Woodford, near the park's northern entrance.

4. TEEWAH BEACH CAMPING AREA, GREAT SANDY NATIONAL PARK
Only suitable for high-clearance 4WDs, Teewah Beach Camping area is your own little oasis amongst the sand dunes with backdrops of native flora. Providing the perfect base camp to venture out and return to, you can explore further afield by 4WD and see the striking coloured sands of Rainbow Beach on the revered Cooloola Beach Drive.
Speaking of one of the longest beach drives in the world, the 60km Cooloola Beach Drive runs along the stunning coastline and cruises the majestic sweep of Cooloola's long white beaches. You'll be met with a majesty of curving coastline and high dunes on this often treacherous track, due to its frequency for washouts. Along the way you find the swirl of colours in the exposed cliffs as you arrive at the, definitely worth stopping, Coloured Sands beach walk, and at the top you'll arrive at Double Point Island – an easy number 8 on this list.
4WD difficulty: Easy-moderate. High-clearance 4WDs only and if there's a washout, things can go south real quick. Keep an eye on the tides and tracks in the sand to avoid getting stuck – we recommend you don't head to this one alone.
How to get there: Teewah Beach Camping Area is only suitable for high-clearance 4WDs. You can access this beach retreat via Cooloola Beach Drive, from either Noosa North Shore's southern entrance or Rainbow Beach's northern beach entrance.

5. NORTH STRADBROKE ISLAND
Straddie. It's the best mix of civilisation and escape out of the Big 3 of Moreton, Fraser and North Stradbroke islands. And, if you had to pick one spot that does it best, Cylinder Beach is a hard choice to argue against. Right up on the western shoulder of the island, Cylinder Beach is right next to the Flinders Beach 4WD access point and a stone's throw from the start of Main Beach (before it barrels down the eastern flank of Straddie).
As far as camping goes, you're spoilt for choice with heaps of beach camping spots and camping grounds located at Amity Point and Adder Rock. This one falls into personal preference. If you love roughing it in a swag or roof top tent, both Main Beach and Flinders Beach have a combined 27 access tracks full of designated camping areas (you can only camp on the beach at one of these sites).
If, however, you prefer family camping grounds full of facilities and amenities, Minjerribah Camping located across Point Lookout would be our pick. It's close to the Flinders Beach access tracks, which leads to the marvelled Cylinder Beach, for plenty of 4WD beach driving, and provides a good base to come home and relax.
4WD difficulty: Easy. Sort of a one-trick-pony here with beach driving and only beach driving on the menu. If you've done your fair share of soft terrains, this picturesque trip shouldn't be a problem.
How to get there: Catch a ferry from Cleveland to Stradbroke Island, then enjoy a 20 minute drive north-east along E Coast Road until you arrive at the camping grounds.

6. SANDY CAPE, FRASER ISLAND
The Sandy Cape, or the Cape as it is most commonly known, is at the northernmost tip of Fraser Island – and boy is it a beaut. Situated on the world's largest sand island, you're met with over 100km of open beach to explore up its east coast, virtually all to yourself!
Why? Well, after you've trekked the 100km that most people wouldn't dare, you'll reach a remote northern campsite that shows you what Fraser Island has to offer. So why don't more campers or 4x4s head there more often?
Simple. It's not easy. Once you've caught the ferry across to the Kingfisher Bay Resort, you'll be met with a long 5 hour journey straight up to the Sandy Cape but not before you cross the Ngkala Rocks. These rocks are filled with tricky ruts and water at times, so you'll need to take it slow and this isn't for either poorly equipped 4x4s or off-roading first-timers. Fancy the challenge however, and you'll enjoy a campsite all to yourself with views full of dolphins, rays and whales beyond the break, plus unobstructed views of sunrise and sunset all day long.
4WD difficulty: Moderate. The 5-hour (average time taken) beach drive alone makes this a challenge, however, throw in the unforgiving Ngkala Rocks and it's easy to see why this one isn't for beginners.
How to get there: Ferry from River Heads straight across to Fraser Island with your 4x4 in tow. 5-hour drive straight up the entirety of 75 Mile Beach and past the Ngkala Rocks.
7. OCEAN BEACH CAMPING AREA
First off, it's only accessible by a 16km 4WD-only track. Secondly, there's 63 numbered camping sites for your own little pocket of picturesque ocean views. And thirdly, it is simply stunning. Located in the Bribie Island National Park, just in from the shoreline of Woorim's popular four-wheel drive beach, Ocean Beach Camping Area sites are just behind the dunes with clearly defined track entrances.
This one is mostly for the relaxed camper, keen on getting away from the busy city life and just embracing nautical nature. Those who do venture this way will be met with an ocean teeming with life with dolphins, turtles and heaps of fish for avid fishers to enjoy. The adjoining beach is also pristine and often deserted, making it the perfect destination for a true oceanfront escape.
Apart from the 16km beach track, this one is more about relaxation than thrill-seeking 4x4 adventurers but one worth turning the engine off for.
4WD difficulty: Easy. Clearly marked beach driving with no go-zones outlined by dunes, it doesn't get much easier than this. An onboard air compressor is a must here.
How to get there: Take the Bribie Island Road through Ningi and Bellara, head north sticking east until you arrive at the shore clearly marking 'beach access only'. From there head 16km north along the shoreline until you arrive.
SOURCE: TJM